LIFE & SOUL PROMOTIONS
DEDICATED TO THE PROMOTION OF NEW SOUL MUSIC
At the Forefront of the New Soul Movement
Please note that all new items on this site are now posted at:-
http://mikeashley.wordpress.com/
<![if !vml]>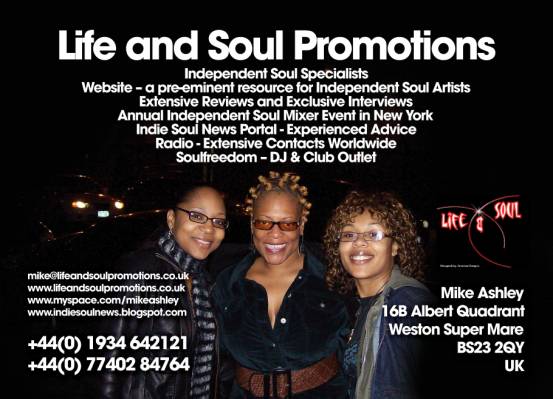 <![endif]>
Please note that all new items on this site are now posted at:-
http://mikeashley.wordpress.com/
This allows for greater flexibility, all the old reviews and interviews remain to be accessible from here.  All of the suite of Life and Soul sites including Myspace, Facebook and Soul Commune can be accessed from the above link
I am slowly migrating my other sites to the link above to tidy them up and keep them all in one place.
The best way to use the new site is to use the side category menu first – this breaks down what you see to that category only.  Otherwise all posts simply list chronologically.
The main categories thus far are:-
Independent Soul News
Reviews and New Releases
New York Indie Soul Mixer Official Site
Soul Freedom, the portal for our gigs and radio appearances
Mike Ashley, more personal ramblings from me, the author.
Thanks for stopping by
Mike
www.lifeandsoulpromotions.co.uk
2008 been a busy year with increased activity in radio work, and the two visits to the US, for the Indie Soul Mixer and the Independent Soul Music Summit – the events that Life and Soul are heavily involved in, updates and news are now made on the blog site above.  The rest of this site will remain as a reference to the reviews and interviews we have done in the past.
The links on this page remain to access you to the suite of sites connected to this one. 
My activities in the US are:-
My annual Independent Soul Mixer event in New York.  This years event will take place on March 21 2009. This will be the fourth one and it is becoming an essential event on the Independent Soul Calendar.  Interest is already high for this event. Email me to ensure that you are on the mailing list for this event
The International Soul Summit in Atlanta – I participated in the 2008 event following my initial appearance at the 2007 event, and will also in 2009 in September.
Through these visits I have established an enormous network of people, sites, activities, gigs, and so on.  The connections are strong and anyone invoved in the New Soul Movement in any capacity should get on board, Just drop me an email at mike@lifeandsoulpromotions.co.uk
MySpace and, increasingly, Facebook and other social interaction sites are an essential component to the Life and Soul suite of sites.  So with our mailing list, our Facebook, MySpace etc 'Friends' we access regularly many thousands of relevant people. 
Included within Facebook is a 'closed' Group - Facebook  - Life and Soul Artist Facility – Only members of the industry, artists and their advisers can join this group, where advice can be given or sought on any matter regarding the Business of being an Artists
I always champion new music, particularly independent, and reviews will continue to appear.  In addition one of the major growth areas for me has been the radio work.  We now have a regular weekly show on Radio Cardiff, the shows are uploaded to http://mikeashley.imeem.com/ so please take a listen.  I also contribute to other shows both presenting and providing music – it is therefore essential that I am kept informed of all your new product!
I continue to assist and advise artists in connection with visits or proposed visits to the UK.
It is important to me that I remain independent – so whilst I work with various members of the Soul Music Community I am not tied to anyone, and I will always give an independent perspective.
The Soul Freedom DJ and Club outlet continues – we can provide music from any era, for any purpose – clubs, radio, parties, label launches, afterparties. We currently have two residencies in Cardiff and play many one-offs.
My firm Colin Coates & Partners www.ccptax.com can offer taxation and accounting advice.
<![if !vml]>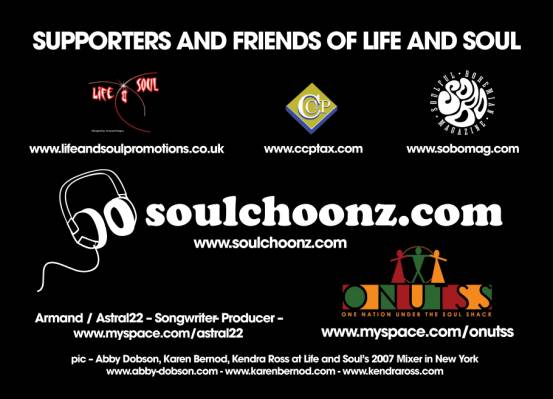 <![endif]><![if !vml]>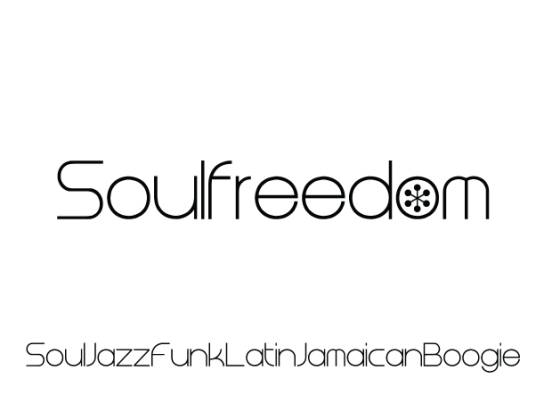 <![endif]><![if !vml]>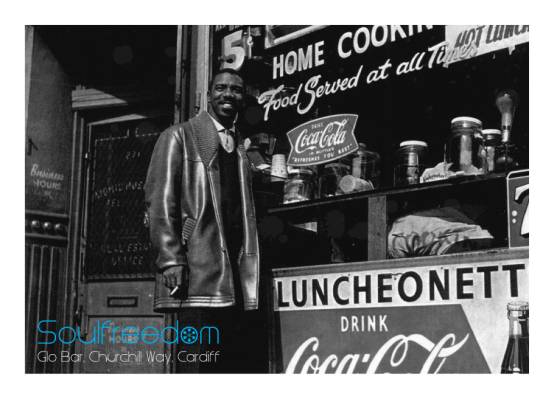 <![endif]>
Life and Soul Promotions – Family of Sites (© Mike Ashley)
Key Links
MySpace for Independent Artists
Imeem site for Music Playlists and Radio Show Playbacks
Detailed and Other Links
Life and Soul Promotions MySpace and Gig Listing
Facebook - Life and Soul Promotions Group
Facebook - Life and Soul Artist Facility Group
MySpace - Independent Soul Forum
My Personal Blog containing Diaries of my US visits
Life and Soul's BlackPlanet Site
Life and Soul Merchandise  Life and Soul Amazon US Store  Life and Soul Amazon UK Store
Selected Page Links
Buy your CD's here - Retail Outlets
International Soul Summit 2007 Diary and Pictures
The Juice on Solar Radio - Reviews
Old Site Links

Main Site Old home page

Alternative Site Link and Owned Domain

Independent Soul Forum

Site Message Board
Mike Ashley - mike@lifeandsoulpromotions.co.uk
Tel: +44 (0)1934-642121 +44 (0) 77402 84764
(c) Life and Soul Promotions