MODERN SOUL and R'n'B REVIEWS
Scroll down for reviews of the following:-
Buy many of these review items and more at cdbabyshoppingcart
Adrianne Archie - Hthaelhh

The Best of Watson T Browne

New Birth - Lifetime

Rhonda Thomas – Breathe New Life

Baby Jaymes – Ghetto Retro

Darryl Reeves – Diary of a bandstand

Jennifer Johns – Heavy Electromagnetic Solarpoetic Junglehop

Diggz Presents Random Soul

Cuba Gooding – Begin with the family

Bray – If you don't mind

Damon Cooper – they call me coop

Mirahj – Mirahjatrois

Bobby Taylor – Together & Ohh baby baby

Lori Perry – Wrote this Song

Penny Wells – Shine

D'Syre – D'Syreous

J. Williams – Comin Out
Reviews Index - Reviews
Cuba Gooding – Begin with the family www.irierecords.com

Detals, purchase and soiund clips click the image
Opens in great style with Never Gave Up and that instantly recogniseable voice. One of several cuts written by Cuba in conjunction with the producer Jason Smith of Caribbean Pulse. The other self penned tracks . I Like It, Never The Less, and Finally are also ballads – never the less is th epick.
Have I Told You iis another well delivered ballad. The title track Begin With The Family raises the beats a little, very gospel orientated speaking of the morals of life and of the family. Good track including the message.
4
Ain't Nobody Lonely in a different style is bouncier, not reggae but more of a caribbean influence.
6.
I'm Sorry is a duet with LaNiece McKay, a familiar traditional ballad but is still one of the top cuts on the album, excellent vocals from both. La Niece (of Caribbean Pulse) has a great voice. Probably te tune most associated with Cuba is Mian Ingredient's Everybody Plays The Fool which is recut here, with a contemporary, inspirational feel to it. Great song and it still works.
Adrianne Archie – Hthaelhh www.adriannearchie.com
Details, purchase and sound clips click on the image
<![if !vml]>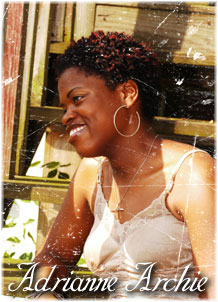 <![endif]>
What I like about this album is the relaxed, coversational feel to it, together with contemporary beats. Whist the lyrical content is spiritual and gospel orientated, the vibe isn't and it sits perfecty easily in the new soul arena. The delivery and production is strong and the Soul Linq team, Adrianne, Carlis Phillips and Joel Goodman have put together an interesting package (and the package is good too!)
It is the kind of album that you can play all the way through. My pick however would be Way We Praise, which is melodic, easy and catchy. What A Fellowship follows it closely being slightly heavier on the beats, neo soul feel and the nearest to a dance groove and the most likely contender as a single.
Who Jesus Is sets the vibe after the intro. It Is Well is funkier and the 'chat' adds to the interest, bit Angie Stone I feel, good track. He That Hath An Ear, Let Him Hear (HTHAELHH), a reference to Revelations 2:29, and 3:22, the title track beckons you into the album. Always On Time is more complex with conversational lyric and I'm less sure about this track.
Praise Elevation is a vocal showcase, not quite accapella, nearest to traditional gospel and very nice indeed. Used To Do again with heavier beats, a bit harder and it could be drum and bass. Aingonlechugo, wasn't til I heard it I realised what that said even though it's pretty obvious!
Whilst the lyric Jesus U Reign for example, is overt and it is clear what the message is, I do not find the message overt at all, indeed it is very personal, so the album should appeal to those gospel orientated and those not.
An excellent closing acoustic ballad Why not take a chance………so why not, recommended
Bray – If you don't mind -
Details, purchase and sound clips click on the image -
There is a current R'n'B feel to this yet the overall 'sound' is very smooth, laid back and could easily fall into the 'Quiet Storm' category. I'm sure it will therefore appeal to both the young and the old. There are 17 tracks in all, written by Bray himself and produced with the help of Don Mac, all tracks are of a theme with contemporary lyrics, but each have their particular nuances. For me th e set wins because of it's overall feel and vibe, rather than there being a particular 'stand out' track. Perhaps that's what it needs just to grab everyone's attention. Nonetheless tha album is one that can be played all the way through if the mood is right, touching on soul, R'n'B and Hip Hop.
There are everyday love themes form togetherness through to infidelity, alongside street reality on tracks like Everyday Hustler and the Hip Hop Crazy World. The nearest to uptempo is Make U mine.
Hard to pick standout tracks put I'd probably go for You cheated on Us, If you don't mind with a hard bass line and good vocals and the sensual Marvin Esque If lovin you is all
Damon Cooper – they call me coop http://www.damoncooper.com/ http://www.soulthought.com/ http://artist.amazon.com/damoncooper
6 track ep containing tracks My heart, wanna be your lover, soul solution (plus additional acoustic version), I love you and will you be my baby.
A tremendous little EP, with no dud tracks. An excellent voice and well constructed songs of various tempos. My heart is a catchy laid back ballad, which allows for some great vocalising over the top. Wanna be your lover picks up the tempo a bit, though still retaining an acoustic feel to it – a track most suited to the Uk I would suggest.
Soul Solution is another easy laid back track which floats away but again the vocal holds your attention, and is equally good whichever mix you choose.. I love you is slow, moody, bluesy, but still accessible and current and probably my favourite, sort of Southern but still contemporary in the way of say The Transitions or Public Announcement. Booker T Jones III on production adding a polish to the album which you would expect. There's an originality, a soulfulness, an overall good 'feel' to this.
Looking forward to more from Damon so good luck to him and the Soul Thought team.
The Best of Watson T Browne http://www.watsonbrowne.co.uk
Watson's voice is distinctive and reminds me somewhat of Aaron Neville, and is suited to material like Searching for a star, a track which has received wide recognition and has been included on a host of compilations.
On this compilation there are a series of covers ranging from old soul classics like warm and tender Love, I've been loving you too long, dock of the bay, Soul Man, save the last dance, to group classics like Kiss and Say Goodbye, dark End of the Street and Homely Girl, through to some pop like Hotel california, Lady in Red and Broken Stones. All are well delivered and proves to showcase material that in the right environment would be a great show. Indeed I would think that this is the purpose of them to an extent. So they are not mindblowingly original and are not going to be the latest trend in R&B or Neo Soul or whatever the next such buzz phrase will be, but they will appeal to a certain across the board audience.
Then there is the original material in addition to Searching for a star. Lifting me higher is 80's diso style complete with rap, bongo and pounding easy bassline. So Claire is back in ballad territory. Give Love to the child and Where are they now both have hints of old school soul in them. Bernadette another ballad with a touch of Country and Western (which appears in more than one track actually!) is not the four Tops song. City Clown is more uptempo. Brother of Mine is the deepest lyrically and maybe the best track on the album.
Not sure where this fits in today's world but I would have thought there should be plenty of work for somebody of this calibre.
New Birth – Lifetime ft Leslie and Melvin Wilson www.thenewbirth.com
The return of New Birth 2004 style featuring some execellent vocals and old skool quality, experience and professionalism. Top track for me is the opener Fun is in the chase which has a very current modern soul feel.
There are fine ballads – Workin on you, You know you want me, both vocally strong.
Also some get down funk and disco styled tracks like Ballin and Comin from all ends , and a reworked Dream Merchant. Mo Deep features Sean Barney Thomas who also collaborates on the writing front. Hey Girl is melodic 70's style soul. Concluding again with excellent vocals on the gospel Mighty Rock.
Great to see these guys back showing there is still a place for quality Soul Music.
Rhonda Thomas – Breathe New Life www.rhonvoacls.com
A very fine album mixing a variety of styles. It is jazzy, funky, up and down tempo, and even a little bit of house? But certainly for me it's the vocal quality whether on the mellow title track, or the funkier side like Givin my all (which is very Maysa!) that makes the album a real winner.
<![if !supportEmptyParas]> <![endif]>
The opener Fly away sets the groove with a percussive old skool jazz funk piece. The production is excellent quality which is where independent projects often fall down, but not here. Breathe New Life, the title track is mellow and Rhindda allows her vocals to extend over the chorus – nice track. Givin my all which as I've alluded to has a funkier beat and a harder vocal and is one of my favourites. Stand and know picks up the beat to another level, a good dance track.
<![if !supportEmptyParas]> <![endif]>
To underline the diversity Friday night is more current R'n'B over percussive beats, before reaching a peaceful conclusion with a gospel drenched Peaceful Blessings, mellow jazz Just a phase, Kiss your smile and Matrimony
Mirahj – Mirahjatrois http://www.starpolish.com/artists/details.asp?ID=11264 http://www.cdbaby.com/cd/mirahj3
Wow, I like this. From the day it arrived I have consistently played this, right from the kickin R'n'B intro on Anatomy, which would go down in the hardest R'n'B clubs. But that's not all, when the pace comes down the sound is still good. Never in the First Place is a good haunting R'n'b ballad. Seems we are now talking Urban or street Soul and this whole album falls right into this category. Digression but it seems to me that the young US market is ready for this kind of album yet we still have some way to go in the UK, as the young still seem to be in for the more 'banging' R'n'B…but we're getting there.
Pretty Eyes with old skool monologue, as opposed to rap, smoulders and builds and is one of my favourites. Mirahjatrois (the Lovezone) the title track is a bit acoustic, and whilst it is the title track I'm still not sure about it – bedroom R'n'B! Don't Make Me Clown ups the pace again – a duet fight. Never Wanna See You Again is the probable result!. Take It to the Momo ends on a heavy vibe.
Good album, on the Urban side of Soul.
Baby Jaymes – Ghetto Retro http://www.cdbaby.com/cd/babyjaymes http://www.ghettoret.net/
A conceptual album which is current yet unashamedly, and even packaged, retro, and it succeeds. There is a fusion of the madder funkier side with hip hop on side 1, and side 2 is maybe more Motown influenced with modern R'n'B.
<![if !supportEmptyParas]> <![endif]>
The funkier side is assisted with a guest appearance of the Mighty George Clinton. Jaymes clearly has been picking up lots of old school influences and putting this together with the likes of the Toni's and raphael Saadiq, withwhom he has worked.
<![if !supportEmptyParas]> <![endif]>
Kicks of with a a couple of great tracks, Nasty R'n'B and the Clintonesque Tricks which is also a single. Interspersed with 'intros' and chat between tracks which I'm not too sure about but putting that aside there is much to get a hold of on this album.
<![if !supportEmptyParas]> <![endif]>
Black Girl White Girl is quite instant in a chant sort of way.
<![if !supportEmptyParas]> <![endif]>
The CD is packaged as side 1 and side 2, side 2 for me is the best and I particularly like the melodic, more neo All I want is you, and Wishin 'n Hopin. Keep listening and I keep finding and liking more, and it's good to say that kind of thing about an album, and not just putting it away!
Bobby Taylor – Together & Ohh baby baby http://www.cdbaby.com/cd/bobbytaylor
Ohh Baby Baby is the old Smokey song, and it remains the old Smokey song, just a good song and this version is fine but without adding too much. However I find myself liking the Together EP much more. Bobby clearly has a voice of the quality honed on the male vocal harmony groups of the 60's an 70's. His voice however stands alone , where he is assisted by Gene Redd arrangements. We have own song Together, A Teddy Randazzo song Hurt so Bad, which is especially good. With assistance from Patrick Adams on a disco tinged You can't hide from love, and an upbeat Let's stay together.
Darryl Reeves – Diary of a bandstand http://www.darrylreeves.com/
Expressive jazz instrumental album of mainly own compositions except for a Gregory Tardy and a Patrice Rushen track. I particularly like The Meetinginspired largely by Joe Henderson. Great instrumentation and strength, which hangs together well especially the piano, rhodes interchanges. Great trumpet solo over pounding accelerated jazz bass on Purpose.
I'm probably not the best person to review this, I can and do appreciate it but it's very much mood music for me rather than an area of particular expertise. I can feel however where it's coming from and get the backdrop and reasoming behind each track After the gig isvery much 'after the gig' for example, asing the way through the night after evryone bar the musicians have gone home!
Remix is an interesting concept, particularly for free form jazz. Though very short it does have a different feel to it.
Darryl appeared on the track Talk to Me on Jill Scott's album.
Jennifer Johns – Heavy Electromagnetic Solarpoetic Junglehop http://www.jenniferjohns.com/home.html
Interesting album, different from the norm. Some diverse and different influences ranging from hip hop, west indian, eastern, drum and bass, funk and mainstream soul. There's a whole heap of stuff in there. Do you believe in love is where I first sit back and take notice, almost spoken word over drum and bass with haunting seductive chorus.
The album has a distinctive vibe to it but I have to say that I prefer the more traditional soulful tracks like Fallen, Beautiful and Never give Up. 'O' starts off veryweird but is actually quite deep. Fire is the nearest to mainstream R'n'B/Hip Hop but even that goes off at a tangent.
The hidden track is Afraid of Me, and I guess maybe I might be. It is long, moody and reflective and for me the pick of the album. Unusual album and you'll have to make up your own mind because frankly I'm still not sure.
Jennifer calls it Electric Soul, maybe that should be Eclectic.
Diggz Presents Random Soul http://www.randomrecordsuk.com/content/home.htm
The project deserves high acclaim as the aims and objectives are the furtherance of the Soul Side of current talent…and the fact that it's Bristol based! There are sufficient quality tracks on here to make it more than worthwhile, but they don't all hit the spot and several are growers.
Kickin off in fine style with the excellent Dyanna Fearon - Kinda Shy. Venus Tribe are getting attention from a lot of angles lately and Thinking About me is fine too as well as some of their indemand back catalogue.
Myron's - Free has been a top track amongst indie and modern soul fans, so this precursor to an album release is a much looked forward to release. Hernandez Bring on is one of my favourites, upbeat catchy. Lynden David Hall -Pimps, Players and Hustlers is a quality track as you would expect from the man. Similarly Don E doesn't let down with the slow stabbin' Lonely.
Avani is getting big props and Without Love is probably the best track on the album. The Loose Ends of now sadly do not come up to past glories and this pastiche doesn't work for me. Concludes with a moving ballaad by Lain.
Track Listing:
Lori Perry – Wrote this Song http://www.loriperryonline.com/
A debut solo album from Lori, great production by William Parks on an album of traditional style soul akin to say Anita Baker, very strong vocals with strong leanings towards gospel.
The opening title track Wrote This Song is mellow and jazzy and a fine opener, but the first track to really make me sit back and stop was the gospel laden I'll Follow You –a contender for track of the album. The album weaves between gospel and jazz and On My Mind takes us back to jazz territory. I prefer the stronger more gospel tracks like I Found It in You which is getting attention I understand.
Also strong lyrically and not afraid to move aside from the inspirational of Tribulation and Kingdom and move into the effects of Nine Eleven. No Longer Run is the nearest to Anita Baker. That is not a criticism just a measure of the quality that this album exudes.
Penny Wells – Shine http://www.pennywells.com/
Classy sophisticated soul of the kind that you rarely find on an independent release. Put together with Al Mckenzie and the result is a package that wins on pretty much all fronts, lyrically strong, great vocals, jazzy, soulful and mellow.
Don't give up is more upbeat with a heavy jazz vibe, as is Superman. Shine is strong vocally and lyrically and is rightly the title track, as indeed it does Shine. Everything to you I like a lot, with its infectious hook. Compared to you is the harshest track, and that's not a criticism, harder beats,funkier, perhaps more of a today sound.
Soul Jazz of a high quality.
D'Syre – D'syreous http://www.phatgrooveunit.nl
Coming out of the Phat Groove Unit in the Netherlands. Quite a nice project this with a kind of P Funk feel to it throughout but especially on first hit – the track Rough Hot and Juicy. I guess with a title like that it had to sound that way!
At the break of dawn picks up the groove somewhat over a strong bassline whereas All 'n all brings it all right back down to acoustics, it's mellow but the vocals are stronger nonetheless. M.U.S.E. comes in two styles one accapella (2 da soul) and one with acoustic guitar.
Get naked is back to more to get down funky stuff. Soul nature is very sparse on the mix. Pain is moody And reflective. Got u goin for me is back to the acoustic side, laid back.
Overall some nice grooves and quite a nice feel to the project, but I would have liked it to be a bit stronger on the vocal front.
<![if !supportEmptyParas]> <![endif]>

Rough Hot And Juicy

<![if !vml]><![endif]>

<![if !vml]><![endif]>

Hot, sultry, the street dances and appears to be liquid
Your stride is fitting this weather and coming my way
Baby, it's time. . . . . . . . . . . . . . . . . . . . . . . . . . . . . . . . . . . . .Time to get. . .

<![if !vml]><![endif]>

<![if !vml]><![endif]>

Come On Over,
Come On In

<![if !vml]><![endif]>

<![if !vml]><![endif]>

Come on in and I'll show you.

<![if !vml]><![endif]>

<![if !vml]><![endif]>

At The Break Of Dawn

<![if !vml]><![endif]>

<![if !vml]><![endif]>

This is where we are. . .

<![if !vml]><![endif]>

<![if !vml]><![endif]>

All 'n All

<![if !vml]><![endif]>

<![if !vml]><![endif]>

The biggest cliché is the biggest wonder.

<![if !vml]><![endif]>

<![if !vml]><![endif]>

M.U.S.E.

<![if !vml]><![endif]>

<![if !vml]><![endif]>

There I am, with you in my arms
Through the sultry shades the evening sun enlightens
Your smile, your shining hair.

<![if !vml]><![endif]>

<![if !vml]><![endif]>

Get Naked

<![if !vml]><![endif]>

<![if !vml]><![endif]>

Ain't it clear?

<![if !vml]><![endif]>

<![if !vml]><![endif]>

Soul Nature

<![if !vml]><![endif]>

<![if !vml]><![endif]>

You frighten me with your thinking or lack thereof. These are my choices, I make them, not you, no one. . .

<![if !vml]><![endif]>

<![if !vml]><![endif]>

What I Know

<![if !vml]><![endif]>

<![if !vml]><![endif]>

How can i resist you. When you smile to me like that.
I don't want to resist, i want to be there for you. . .

<![if !vml]><![endif]>

<![if !vml]><![endif]>

Pain

<![if !vml]><![endif]>

<![if !vml]><![endif]>

Pain like you will never feel. . .

<![if !vml]><![endif]>

<![if !vml]><![endif]>

What'cha Gonna Do

<![if !vml]><![endif]>

<![if !vml]><![endif]>

Give me one reason to believe. . . Look at the missery. . .What'cha Gonna Do? A new book?

<![if !vml]><![endif]>

<![if !vml]><![endif]>

I Got You goin' for me

<![if !vml]><![endif]>

<![if !vml]><![endif]>

Whatever you think of me, I got one strength. . .

<![if !vml]><![endif]>

<![if !vml]><![endif]>
<![if !supportEmptyParas]> <![endif]>
J. Williams – Comin Out available from www.cdbaby.com
J Williams, Johnny Williams is currently serving a 30 year prison sentence. As to the crime of course I cannot tell but from what I do know it appears that Johnny is remorseful and full of regret and that he is making every effort to channel talents into music, for which we can only support and praise.
I don't know the circumstances as to how this was recorded but I guess not under ideal circumstances. I wish Johnny well and he gets my support but notwithstanding that I find this very difficult to get in to. As an expression to get his views across it is fine, and the somgs are touching and strong but on delivery I have to say that tey do not stand up. Sorry.
<![if !supportEmptyParas]> <![endif]>
<![if !supportEmptyParas]> <![endif]>
<![if !supportEmptyParas]> <![endif]>
<![if !supportEmptyParas]> <![endif]>
<![if !supportEmptyParas]> <![endif]>
<![if !supportEmptyParas]> <![endif]>
Visitors: 114989
Programming
Get a degree today
Click Here!


Bravenet.com
(View Stats)
<![if !supportEmptyParas]> <![endif]>